Due to Covid-19 the Ashtanga Workshop with Laruga Glaser got cancelled
We are planning a new Workshop end of the year or spring 2022 – Please send me a message if you want to be informed as soon we do have the new date.
I am happy to welcome Laruga Glaser for another workshop at Ashtanga Yoga Mitte in Mai 2021
I think it is the 10th visit at AYM but for the first time she will come as a certified teacher : )
Looking forward to an inspiring Workshop next spring.
Take the chance to practice with her – she is a great workshop teacher.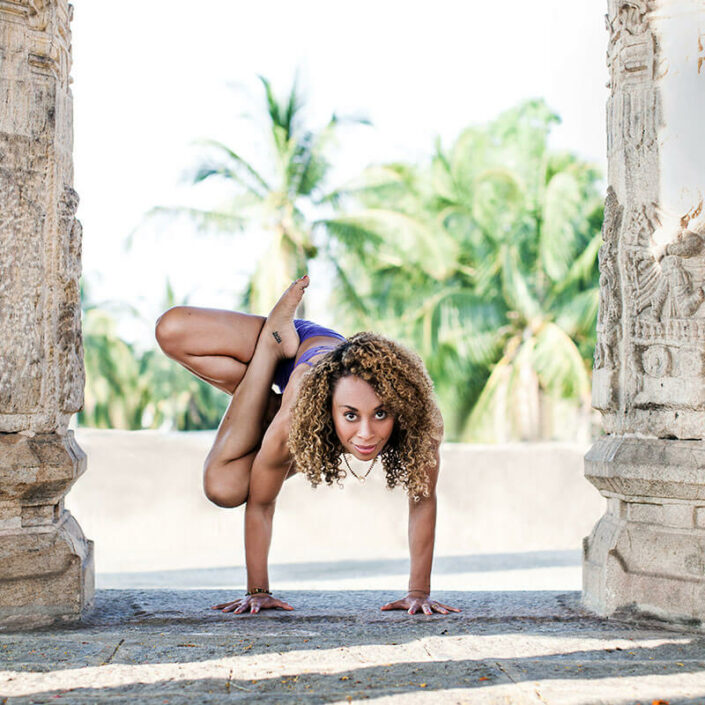 To take part in the Workshop you need to know the sequence (Primary Series) in Mysore style till Supta Kurmasana.
For sunday afternoon you don't need to know the Intermediate Series, but you must have a stable practice of the Primary Series and do Drop Backs or at least are working on it.
It is also possible to book the workshop without Sunday afternoon.
More infos about Laruga: www.larugayoga.com
Workshop Booking: Please send me an email – I will send you a registration formula.
Schedule Ashtanga Workshop with Laruga Glaser:
Saturday Mai 8th:
9:00 – 11:00 Intro, Led Primary (shifted from Friday late afternoon to saturday)
12:00 – 14:00 Q&A, Awakening The Core: Bandhas, Breath and More
15:00 -17:30 Arm Balance – Power with grace
Sunday Mai 9th:
9.00-11:00 Mysore
11:30 -13:30 Power down – the ashtanga yoga closing postures
14:30-17:00 Intermediate Series 1st part (Nādī Śhodana)

Workshop fee: 250 Euro full workshop
without sunday afternoon (Intermediate): 200.-
Students of AYM: 10%, Flat Students of AYM: 15%
Registration: Pls send me an email and I will send you registration form.
More Workshop details:
Awakening The Core: Bandhas, Breath and More:
In this workshop become more intimately rooted to the internal network of the bandhas while tuning to the central axis of the body. Properly understanding how to engage the bandhas not only bring lightness to the body but also stability and clarity to the mind. Learn to become more closely connected to this often elusive and mysterious part of the practice of Ashtanga yoga, appropriate for all levels.
Arm Balance with Power and Grace:
Experience the exhilaration of arm balances in a playful and explorative way, while learning the basic elements and foundational techniques to successfully construct an arm balance practice. Proper alignment, strength building as well as energizing the subtle body will be addressed in this inspiring and informative workshop for all levels.

Power Down – The ashtanga yoga closing sequence
The Ashtanga yoga closing sequence is comprised of a series of postures to cool, center and calm the body at the end of the practice. With various inverted postures and longer breath holds, gain greater understanding and awareness into this important sequence of postures.
Intermediate Series in Detail – 1st half Nādī Śhodana
Intermediate Series, otherwise known as nādī śhodana, meaning nervous system cleansing, builds upon the culmination of energy and purification within the practitioner built from the foundation of Primary Series. With deeper backbends and forward bends as well as arm balances, the Intermediate series integrates the use of opposing forces to garner greater unity and strength, both mental and physical, opening the internal light of awareness within each individual.
In this workshop special attention will be focused on the in depth study of each posture, their relationship to each other as well as executing the proper vinyasas and transitions, with special attention to all points of Tristhānam (posture, breath, drishte) throughout the practice. In addition, there will be time taken to trouble shoot areas of difficulty to gather skills to then move forward in the practice with greater intelligence and awareness. Whether new to the practice of Intermediate Series, or an experienced practitioner, this workshop will invoke new insights and inspire your already existing practice