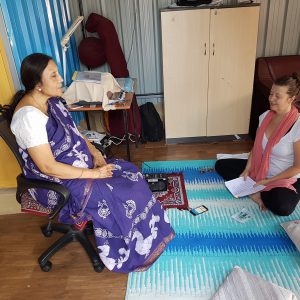 Ich freue mich, regelmäßig 1 x im Monat mit Euch zu chanten.

Gechanted wird in Sanskrit, was eine beruhigene und ausgleichende Wirkung auf Körper& Geist hat.

Wir werden uns einigen leichten Chants widmen, die ein guter Einstieg in die Vielfalt der indischen Chants sind.
An diesen Morgenden möchte ich Euch Mantren, Stotren und Songs vertraut machen, die ich in Mysore in der Shala mit Laksmish und privat mit meiner chanting Lehrerin Ranjini Koushik einstudiert habe und jedes Mal , wenn ich in Mysore bin, weiterübe.
Come and try – mind will be quiet : )
Beginners welcome!
Nächster Termin:
Sonntag, 29. März 2020 11:00 im Anschluss an die Led ca 30.Min
Auf Donationbasis

Anmeldung bitte per email