Laruga Glaser will come for another Ashtanga-Workshop to Ashtanga Yoga Mitte
November 30 – December 2nd.
If you interested reserve your spot! First come first serve!
Looking forward to an inspiring Workshop in the winter.
More infos about Laruga: www.larugayoga,com
Book your spot via email & payment
Please notice: To take part in the Workshop you need to know the sequence (Primary Series) in Mysore style – you dont need to know Intermediate.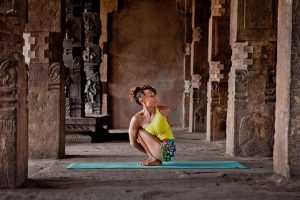 Freitag 30.11.
17:30-20:00 Primary Series in detail – 2nd half (from Bhujapidasana to Setubandasana)
Samstag 1.12.
9:00 – 11:00 Mysore
14:00 -16:30 Backbending with Ease – Liberate the Spine
16:30 – 17:00 Q & A
Sonntag 2.12.
9.00-11:00 Mysore
11:30-14:00 Introduction to Intermediate Series (Nādī Śhodana)
Preis: 200.- / 180.- für Flatrateler
Primary Series in detail – 2nd half (from Bhujapidasana to Setubandasana)
Primary Series, otherwise known as, Yoga Chikitsa or yoga therapy, is the foundation of all the sequences of the Ashtanga Yoga system are built upon and thus highly important. Not only is Primary Series the most important series but also preps the body/mind to open to greater states of awareness, concentration and stability. Learn to find steadiness and ease within each posture as we further investigate the intelligence behind the sequencing and the important application of dristhi, bandhas, and breath.
In addition, special attention will be focused on moving with conscious awareness proceeding with conscious breath, otherwise known as vinyāsa. Trouble-shooting areas of instability that may be present, learn how to thoroughly build strength, with care and attention, building upon internal alignment. This workshop is appropriate for new and established practitioners and is broken up into two workshop sessions.
Backbending with Ease – Liberate the Spine
The paradox of backbending is that we must be firm and soft at the same time, uniting the energy of strength and surrender. Learn the basic components of backbending with integrity to the natural flow of the body. In addition, learn to understand the concept of active release. When actively releasing, we experience the use of grounding mechanisms to establish the downward flow of energy while fully utilizing the breath to then be able to expand and deepen. In this workshop learn the foundational techniques that allow the body to find its depth and strength while at the same time letting go. For all levels.
Introduction to Intermediate Series – Nādī Śhodana
Intermediate Series, otherwise known as nādī śhodana, meaning nervous system cleansing, builds upon the culmination of energy and purification within the practitioner built from the foundation of Primary Series. With deeper backbends and forward bends as well as arm balances, the Intermediate series integrates the use of opposing forces to garner greater unity and strength, both mental and physical, opening the internal light of awareness within each individual. Whether new to the practice of Intermediate Series, or an experienced practitioner, this workshop will invoke new insights and inspire your already existing practice.
Storno: You can cancel the WS for free til 31st of august. after we will keep 50%
If you find another person ( we can help you with this) we just keep 10% processing fee.