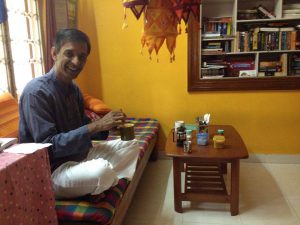 I am looking forward to welcome my friend Arvind from Mysore again at AYM.
This time he only will give two talks with very interistig subjects for yoga students.
You can register separately.
As he studied vedic astrology he will do individual horoscopes also. If you interested in this you may register before. Space is limited as it takes lots of time for him. A horoscope including an hour talking time with Arvind will be 55.-
PROGRAMME:
Saturday 19th of august: 16:00 – 18:00
OM: Its Meaning and Importance:OM is one symbol that every yogi and yogini knows. Many classes begin and end with OM. It is at the beginning of every mantra we chant. It is there on the walls of every shala, on the t-shirts and exists as a tattoo on many-a forearms, but what does it really mean? and why it is considered so important?
Im Anschluss indian dinner bei Royal Punjab in der Venloerstrasse.
Sunday 20th of august 13:00 – 15:00
Law of Karma and Yoga Life: Is life pre-destined or do we have a free will? Is there some truth to reincarnation or is it a mere superstition? Where does Yoga fit into this? —  we will look into some of the relevant verses from Gita and some sutras from Yoga-Sutra of Patanjali to gain clarity on this important topic.
Price: 25.- each / Flatrateler 20.-
Arvind Pare teaches Yoga Philosophy in Mysore. He lived in ashrams for 15 years learning Vedanta from his teacher Swami Dayananda Saraswati of Arsha Vidya Gurukulam.
Arvind has masters degree in Engineering and Business Administration from USA where he spent 12 years. His effective use of language and adherence to traditional methods of teaching allows him to communicate most complex concepts to his students, who range from beginners to yoga teachers.
FB Page of Arvind: https://www.facebook.com/GangaInGokulam/?fre